July 2019
| Mon | Tue | Wed | Thu | Fri | Sat | Sun |
| --- | --- | --- | --- | --- | --- | --- |
| 1 | 2 | 3 | 4 | 5 | 6 | 7 |
| 8 | 9 | 10 | 11 | 12 | 13 | 14 |
| 15 | 16 | 17 | 18 | 19 | 20 | 21 |
| 22 | 23 | 24 | 25 | 26 | 27 | 28 |
| 29 | 30 | 31 | | | | |
Calendar


Name: Sora Takeuchi
Nickname: Sora
Age: N/A
Birthdate: N/A
Birthplace/Region: N/A
Appearance: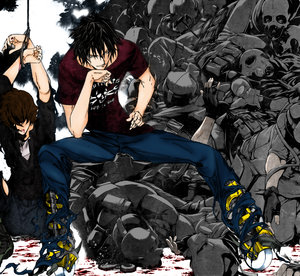 Race: Gravity Child ( white)
Gender: Male
Height:N/A
Weight:N/A
Family: Nike
Relationship Status: Taken(?)
Strength: N/A
Weakness:N/A
Team: 
Former: Sleeping Forest
Current: Genisis
Road: Wing Road
A.T.s: Modified
Look- AT's attached to bionic legs
Wheels: Wind Regalia Bagram
Wheel Design-
Wheel Color-
Biography: During Kaito's time in Yellow Rain, Sora intervenes in Nike and Gazelle's battle. With Nike acknowledging that it will take both he and Sora to take her out. Sora then blasts both Nike and Gazzile with a strong blast of wind, sending them both into the streets below creating a large explosion on impact. He then lands next to Nike asking him if he knows that a birds eye can see in ultraviolet saying that they are like X-rays, allowing them to see through all women's clothing, showing that even then, he was still perverted. He then turns on a barely conscious Gazelle and asks her to tell them what kind of things you can see with a birds heart.
Personality: often shown as a carefree and charismatic person albeit arrogant. He can be easy-going and friendly, but this attitude changes later on to a more serious tone. He can be egotistical when it comes to his abilities as a Storm Rider and has been shown to be very manipulative of his comrades in order to reach his goal. Much like Ikki, he can be very perverted and earns beatings from Noyamano Rika for it.
Special Tech:
Tornado - Sora can create a powerful tornado with wind velocity at 80 km/h or higher(80 km/h was Ikki's limit, so its very possible that Sora is much stronger) that can even shred solid, concrete buildings into pieces. This trick alone incapacitated Spitfire, Aeon Clock and Kazu and would have killed them had Spitfire not reduced the damage by concentrating all his remaining strength into the Flame Road's Infinite Atmosphere. First seen in Trick 162.
Moon Drop - Sora uses the final principle of the Wing Road to interface with the air and moulds wind into dense air. Sora's version is similar to Ikki's; he creates a dense sphere of air and hammers the opponent with it. It is powerful enough to create a single, large crater on concrete floor and incapacitate human enemies caught in the radius. First seen in Trick 224.
Moonstruck Numberless Grappler - The Infinity Atmosphere of the Wind Regalia, Bagram. Ikki was only able to use this trick twice before the Wind Regalia broke and was subsequently stolen from him, rendering him unable to use it ever again. It creates an accelerating wall of debris that flies alongside the rider and is capable of penetrating sheet metal due to its speed. Although he doesn't have the Wind Regalia Bagram he is still able to use this trick.
Kilik & Sora Crystal Sand Wind - Kilik forces grains of sand in the ground to rise and Sora creates a tornado to interact with the sand to make a sand tornado. This move is used on Agito to disable him during the Inorganic Net battle.

Sora

Wind King




Posts

: 1


Join date

: 2011-01-14




Enjiuu

User-Admin





Posts

: 148


Join date

: 2010-01-01


Age

: 23


Location

: eh? I rather not say..





Similar topics
---
Permissions in this forum:
You
cannot
reply to topics in this forum